SkalAb: Multi-scale analysis of aquatic degradation mechanisms of polymeric materials
| | |
| --- | --- |
| Year: | 2021 |
| Funding: | EFRE, REACT-EU |
| Duration: | 12/2021 to 06/2023 |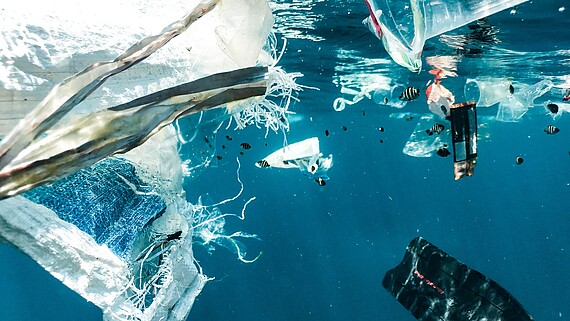 IKK is receiving more than 2 million euros of investment funding through the "European Regional Development Fund (ERDF) financed as part of the Union's response to the COVID-19 pandemic" and with participation from the state of Lower Saxony for the project with the acronym "SkalAb" (Multi-scale Analysis of Aquatic Degradation Mechanisms of Polymeric Materials).
Behind the project is the establishment of an extensive infrastructure for the examination of a multitude of open questions on the degradation behavior of polymeric materials in water, which IKK is currently investigating and will continue to do so in the future.
With the ERDF funding, IKK is establishing a multi-scale, flexible testing laboratory consisting of various micro- and mesocosms, which will enable the synthesis and control of environmental conditions of natural aquatic habitats (e.g. rivers, lakes and oceans) for systematic degradation experiments. This research infrastructure can be used to specifically determine biological, chemical, and mechanical aquatic degradation behavior with realistic superposition of the various material and environmental influencing variables. In addition, the temporal influence, the degradation kinetics as well as the interrelationships between material and environmental parameters including the associated degradation mechanisms and the accompanying water analysis with regard to possible degradation products can be systematically investigated, so that it becomes possible to predict half-lives for materials or components as a function of the various influencing parameters and to specifically develop less environmentally harmful materials for certain applications.
Due to their configuration, the micro- and mesocosms allow a high degree of flexibility in the experimental design and provide an excellent basis for intensive research into the complex relationships between material structure, environmental parameters and degradation mechanisms or persistence of plastics.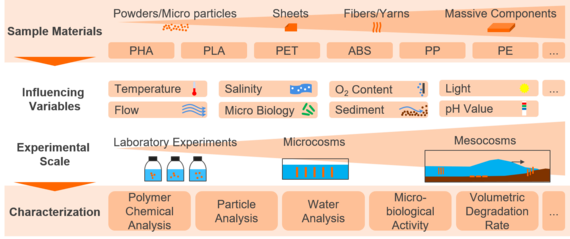 Technical equipment
Range of equipment SkalAb (excerpt):
Sample preparation, including mill to produce particles or microplastics with reproducible morphology.
Filtration systems
Respirometric measurement systems for determining the biological oxygen demand
Particle analysis (macroscopic, morphological, chemical, wet and dry samples)
Microplastic analysis
Determination of chemical oxygen demand (COD)
Determination of total organic carbon (TOC)
Various aquarium and tank systems
General project objective
The realization of this project contributes to the achievement of the goals of the Green Deal and the Europe 2020 strategy, which are to promote a resource-efficient, modern, greener and more competitive economy.
Projects at IKK on the degradation behavior of plastics
Several research projects on the topic of aquatic degradability are currently underway at IKK. These will benefit from SkalAb's advanced experimental setups and analytical methods and thus generate new as well as close-to-reality results.
This includes the projects:
Contact person:
Dr. Florian Bittner
bittner@ikk.uni-hannover.de
+49 5 11 762 13301