Inert gas dosing station with conditioning technique DSD/500/20/SS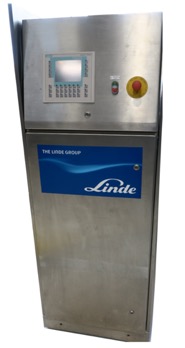 Manufacturer: Linde AG - Gas Division
Short description: The high-pressure gas dosing station DSD 500 guarantees an exact supply of preconditioned inert gases via injection valves into the housing elements of the twin-screw extruders or other plastics processing machines in continuous or discontinuous mode.
Dosing gases: Liquefied carbon dioxide (CO2), compressed nitrogen (N2) and other non-flammable gases, as well as mixtures of the gases
Application: The gas injection into the extruder enables, besides others, gas-assisted expulsion of volatile components contained in the granulate, which cause odor emissions. Further task is to reduce the melt viscosity, i.e. "soften" or shift the glass transition temperature to improve process efficiency and increase output.
Technical data
Dosing range of liquid CO2
0.1 to 3.0 kg/h (mass flow controlled)
Dosing range of condensed N2
0.1 to 2.0 kg/h (mass flow controlled)
Feeding into the extruder
Via mechanical spring force injection valve
Possible further use
General production of extrusion foam