Core task of the Department Material Testing is the comprehensive destructive and non-destructive characterisation of material and component samples to obtain knowledge about processing properties, application oriented material performance, failure behaviour and degradation behaviour. Testing is focused on plastics and fibre-reinforced plastics, but is not limited to these materials.
Besides established methods, for example for the standard-compliant determination of mechanical characteristics, also novel methods are developed.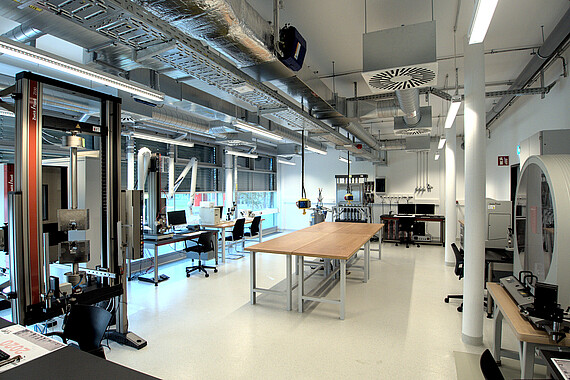 The Department Material Testing comprises:
Mechanical material testing
For the determination of mechanical material characteristics we are able to conduct, among others, tensile, compression, bending and impact bending tests with a state-of-the-art testing machinery, under standard atmosphere as well as under temperature control. This is complemented by creep tests for the investigation of the long-term creep behaviour and dynamic-mechanical tests for the characterisation of the fatigue behaviour.
Thermal Analysis
The thermal analysis includes the determination of processing-relevant properties of plastic melts such as melt viscosity, pVT data or thermal conductivity. This enables relevant material parameters to be determined for carrying out, among other things, injection molding simulations. In order to investigate the thermal suitability of the materials under the conditions of the use phase, the heat deflection temperature is determined.
Imaging analysis
Using 3D digital microscopy and scanning electron microscopy (SEM) samples can be imaged on different scales and with resolutions down to the single-digit nanometre range. By applying energy-dispersive X-ray spectroscopy (EDX) in SEM investigations also elemental contents and distributions in samples can be determined space-resolved.
A particle and fibre measurement system enables the 2-dimensional measurement of geometrical properties of particles and fibres starting at diameters of about 10 µm.
The micro-computed tomography provides a 3-dimensional representation of material samples and components with a detail recognizability down to the (sub-)micrometre range. As a non-destructive technique the method is especially suited to capture the condition of a sample repeatedly over the duration of an experiment and by this track changes inside the samples over time.
Environmental testing and degradation experiments
For the examination of material behaviour under environmental impacts during, as well as after the utilisation phase experimental setups for the accelerated weathering and the simulation of degradation in the environment are available.
Design of experiments
By design of experiments the significant parameters in extensive studies with a large number of experimental parameters can be identified to significantly reduce the experimental testing effort.
Contact Team Material Testing
© Madina Shamsuyeva
Dr. Florian Bittner
Research Staff

© Madina Shamsuyeva
Dr. Florian Bittner
Research Staff